Surviving a Bathroom Remodel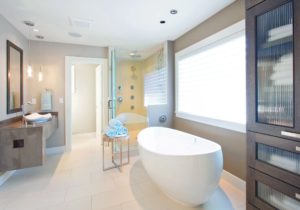 Remodeling is messy – you can count on dust, noise and more. And with renovating your bathroom comes the added inconvenience of encroaching on your most personal space. There are surprises in any remodeling project, but you can prepare mentally (and physically, on site) by considering these pointers:
Dealing with dust. Sanding drywall, removing a tub, ripping out old tile? Expect some flying shards and, yes, more dust. Two ways to help manage the dust: 1) Cover floors leading from the exit to your bathroom, and 2) make sure contractors are walking on drop clothes.
Collect all materials. Before you dig into the project, be sure all materials are on site.
Set up a makeshift bath. If you depend on the bathroom that's under construction for daily use, be sure to ask the designer/builder to set up a temporary bath. A temporary shower/toilet setup might cost $500, but is worth it in the long-run.
Plan on delays. Despite a careful plan, detailed schedule and having all materials on site, you can bet on a remodeling project running longer than you expected. And if you plan on doing a lot of the project yourself, expect a learning curve. Allow leeway because with the level of complexity involved in an all-out bathroom renovation, you must count on "surprises" along the way.
Have fun with it. Embrace the process, and take plenty of before and work-in-progress photos. Remember during all this dust and through all of the delays why you are doing this.
Article originally appeared on HGTV.com.