8 Ways to Extend Your Patio Season This Fall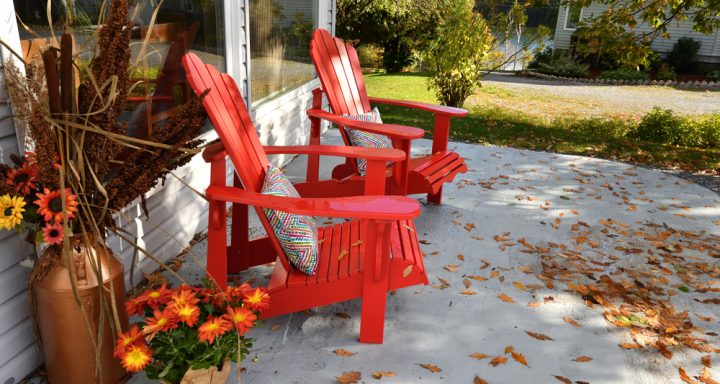 Cooling temperatures and the arrival of pumpkin spice everything doesn't mean you need to head indoors just yet. Using your outdoor living space is a great way to enjoy the changing of the season and enjoy some outside time. Consider these 8 ways to extend your patio season into the fall:
1. Add Some Warmth
Making your outdoor living space enjoyable and comfortable will encourage you to use the space more often. Consider adding a patio heater to easily radiate heat for you and your guests.
2. Hang Some Lights
You'll need some extra lighting with the sun setting sooner. Hang a few strands of lights to add a touch of sparkle to prolong those after-dinner conversations. Choose from different styles that cater to your unique tastes and personality.
3. Cuddle Up with Throws
As temperatures continue to drop, make sure to always have a stack of fresh, cozy throw blankets ready for friends and family. Consider storing blankets in a weather-tight box outdoors to keep them dry and ready for use.
4. Add Some Ambience
To create a truly enjoyable outdoor ambiance, consider adding a popular fire pit to your patio. Not only does a fire pit add an extra layer of warmth but it provides a point of interest to an outdoor living space. Invite friends over to roast some hot dogs over the fire and indulge in gooey s'mores for dessert.
5. Sip Some Tea
Wrapping up in a cozy blanket to read a book and enjoy a hot cup of tea, or hot chocolate, is the epitome of fall that many homeowners love. Make sure to provide enough side table space next to outdoor chairs for ultimate comfort while diving into a good book. Use a simple outdoor tray to carry sweeteners and sugar cookies to enjoy with your warm beverage.
6. Leave the Leaves
You may want to immediately rake up fallen leaves on your patio, but consider letting them fall where they may to really set the scene of your outdoor space. The colors of fallen leaves provide those seasonal scents that remind of autumn-and they can be mulched for your fall lawn care needs.
7. Add Fall Color
Pumpkins are a welcome addition to any outdoor space this time of year. Pick up a few different shapes, colors and varieties to add a pop of instant seasonal color to your patio. Stack and store pumpkins on your patio before carving them later in the season.
8. Have A Game Center
Fall is a great time to enjoy lawn games that carried over from the summer. Many homeowners find fall is the better season to enjoy a quick game of horseshoes or croquet. Create a game center on your patio, and invite your friends and family to join you outdoors for a friendly competition.
Extending your patio season is easy with these eight tips to help your patio pop well into the fall.
Article originally appeared on RE/MAX.